22
---
Copper Sheath Immersion Element
With 1 1/4" N.P.T. Brass Screw Plug-Silver Brazed
For Water
60 Watts Per Square Inch
With 3/8" ID Copper Thermowell
Regulated (Single Pole Stat) and Non-Regulated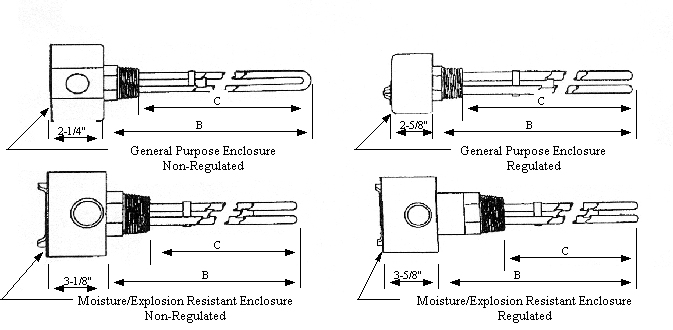 KW
Volts
Phase
Dimensions
(Inches)
Non-Regulated
Regulated (60°-250°F)
General Purpose
Enclosure
Moisture/Explosion
Resistant Enclosure
General Purpose
Enclosure
Moisture/Explosion
Resistant Enclosure
B
C
1
1
120
240
1
1
7-5/8
7-5/8
6-1/4
6-1/4
CQ-1011
CQ-1041
CQ-1011WXP
CQ-1041WXP
ECQ-1011
ECQ-1041
ECQ-1011WXP
ECQ-1041WXP
1.5
1.5
120
240
1
1
10-3/8
10-3/8
9
9
CQ-1511
CQ-1541
CQ-1511WXP
CQ-1541WXP
ECQ-1511
ECQ-1541
ECQ-1511WXP
ECQ-1541WXP
2
2
120
240
1
1
11-7/8
11-7/8
10-1/2
10-1/2
CQ-2011
CQ-2041
CQ-2011WXP
CQ-2041WXP
ECQ-2011
ECQ-2041
ECQ-2011WXP
ECQ-2041WXP
1
1
120
240
1
1
7-5/8
7-5/8
6-1/4
6-1/4
CQ2-1011
CQ2-1041
CQ2-1011WXP
CQ2-1041WXP
ECQ2-1011
ECQ2-1041
ECQ2-1011WXP
ECQ2-1041WXP
1.5
1.5
120
240
1
1
9-5/8
9-5/8
8-1/4
8-1/4
CQ2-1511
CQ2-1541
CQ2-1511WXP
CQ2-1541WXP
ECQ2-1511
ECQ2-1541
ECQ2-1511WXP
ECQ2-1541WXP
2
2
120
240
1
1
11-7/8
11-7/8
10-1/2
10-1/2
CQ2-2011
CQ2-2041
CQ2-2011WXP
CQ2-2041WXP
ECQ2-2011
ECQ2-2041
ECQ2-2011WXP
ECQ2-2041WXP
3
3
120
240
1
1
14-1/8
14-1/8
12-3/4
12-3/4
CQ2-3011
CQ2-3041
CQ2-3011WXP
CQ2-3041WXP
ECQ2-3011
ECQ2-3041
ECQ2-3011WXP
ECQ2-3041WXP
Note:
Standard temperature range is 60°-250°F.
For temperature range of 30°-110°F: add the suffix T1
For Temperature range 200°-550°F: add the suffix T5
For stainless steel header instead of brass header: add the suffix SSN. Consult Factory.
Regulated models require a magnetic contactor for the following conditions:

All 120-277 volt, single & three phase applications over 30 amps.
All 480 volt, single and three phase applications over 21 amps.

208V units not shown are available upon request. Consult Factory.
240V units may be derated for 208V usage with a 25% reduction in wattage.
---
22